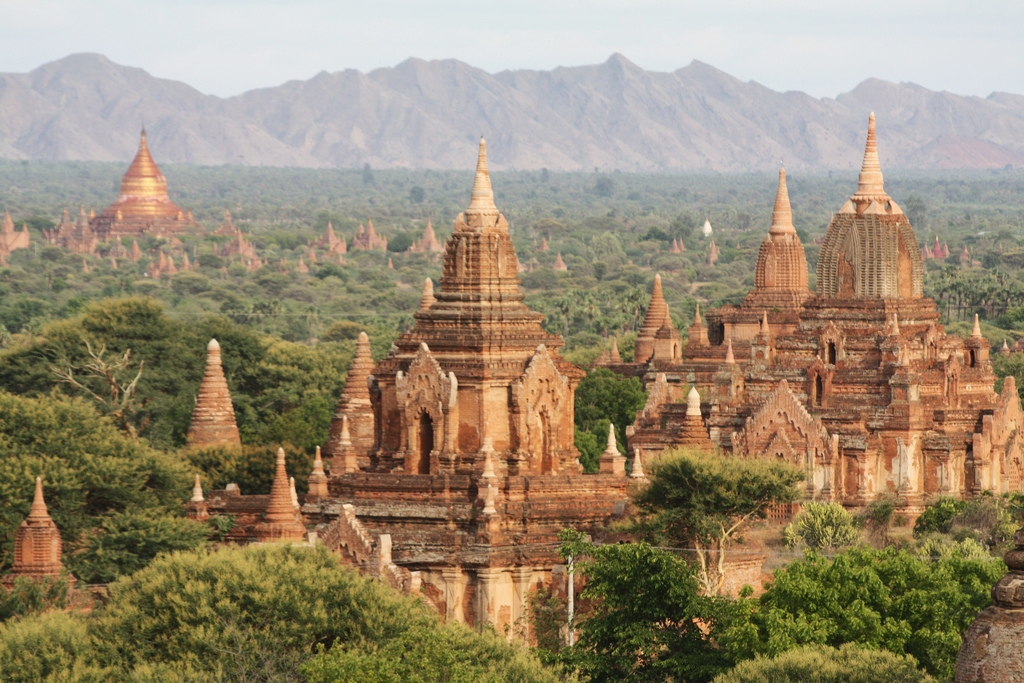 03 Oct

Myanmar (Burma) – Temples & Ancient Cities

With a turbulent political history, Burma (or Myanmar as it is officially known) has been side-lined in terms of Tourism for years. I wasn't sure what to expect from this trip but with my sense of adventure and an open mind packed, I headed into the unknown to see what Myanmar had to offer. I soon discovered that this country was very special and like no other place that I have visited before.

Whether it's the Ethnic tribes, the infamous Irrawaddy River, the ornate temples and pagodas, its ancient cities or spectacular scenery that draws you in, each stop on this amazing journey will astound you.

Myanmar is approximately a 12 hour flight from the UK with a change en route either in the Middle East or one of the Asian hubs. After transiting through Bangkok, I arrived into the former capital of Yangon (Rangoon), which was a great place to spend a few days to acclimatise.

Yangon is a relatively small city but there are many highlights to take in including shopping at Scott Market, visiting the old colonial buildings, experiencing the local tea houses and of course a sunset visit to the spectacular Shwedagon pagoda – an absolute must! From the moment I arrived into the bustling streets of Yangon, the eclectic mix of culture and religion was captivating.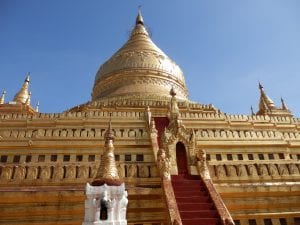 Like a backbone through the heart of Myanmar runs the mighty Irrawaddy River which is a huge draw for many. Timeless scenery and river life greet you as you sail through the lifeline of the local people. However long you have, a wide variety of cruises are available to suit everyone – from just a one hour sunset cruise right through to 20 night all inclusive expeditions to some of the most remote spots in the country.
Over the last couple of years, there has been an influx of new cruise operators taking to the waters of Myanmar and most recently the Sanctuary Ananda ship. With 20 of the largest entry level suites on the river, the Sanctuary Ananda takes you in style on 3 – 11 night voyages of breath-taking beauty and discovery on the mysterious rivers of Myanmar. The culture and cuisine of Myanmar are reflected in the dining options available to guests and complimented by a comprehensive wine cellar.
After the day cruise by local boat from Mandalay, I eventually arrived into Bagan (Pagan).
As a World Heritage Site, Bagan stands alongside the other great centres of South East Asia, comparable to Angkor Wat in Cambodia. Framed on both sides by the river, the main concentration of monuments is around the original city on the bend of the river. Some 5,000 monuments, a testament to Bagan as a former centre of Buddhist spirituality and learning, are scattered over the 42 square kilometres of the Irrawaddy riverbanks.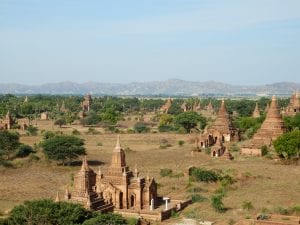 There are many ways to explore this fascinating region (bike, car, hot air balloon or even horse and cart) but for me, nothing beats getting out there on a bike and taking it all in at your own pace – thankfully the roads are pretty flat, so it was very do-able.
Every corner you turn there is something remarkable to see, whether that is one of the many spectacular Pagodas or simply the fantastic rural farm life scenes – it was a photographers dream and certainly stood out as being one of the highlights of my trip.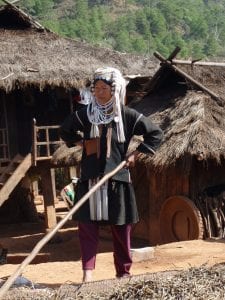 It's certainly worth spending a few nights in Bagan, in addition to the temples there are some interesting day trip options such as Mount Popa and the unspoilt small town of Pakkoku which is famous for its markets, tobacco trade and weaving workshops.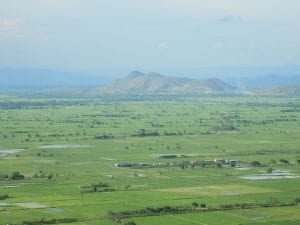 My final region to explore was the Shan State – utterly charming and so much to offer. Perhaps the most well-known highlight is the magnificent Inle lake that lies within Myanmar's eastern Shan Hills and covers approximately 116sq km.
As we made our way through the waters by long boat, I watched in wonder as the Intha fisherman practiced their unique leg-rowing techniques and villagers harvested their crops from 'floating' farms.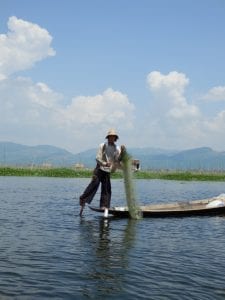 It was fascinating to have the opportunity to discover and learn about the region's ethnic tribes, who have been living on the land for generations.  We spent our days here at the daily markets, visiting stilted villages and interacting with families living nearby.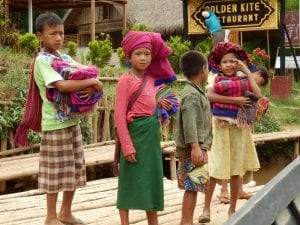 Inle ethnic tribal children
A great place to spend few days if you are looking to be a bit active during your trip is Kalaw, just a couple of hours' drive or local 'slow' train from Inle.
Kalaw is a former British Hill station and is an excellent base to do some guided day treks in the picturesque surrounding countryside and villages. One of our most popular treks is to the Green Valley Elephant camp, where you can also enjoy some up close interaction with the gentle giants.
Unfortunately my time in Myanmar had come to an end and as soon as I left, I already felt like I wanted to do it all over again. It's hard to know whether they will remain untouched by the modern world but one could argue that it's all the more important to get out and see for yourself, before it's too late!