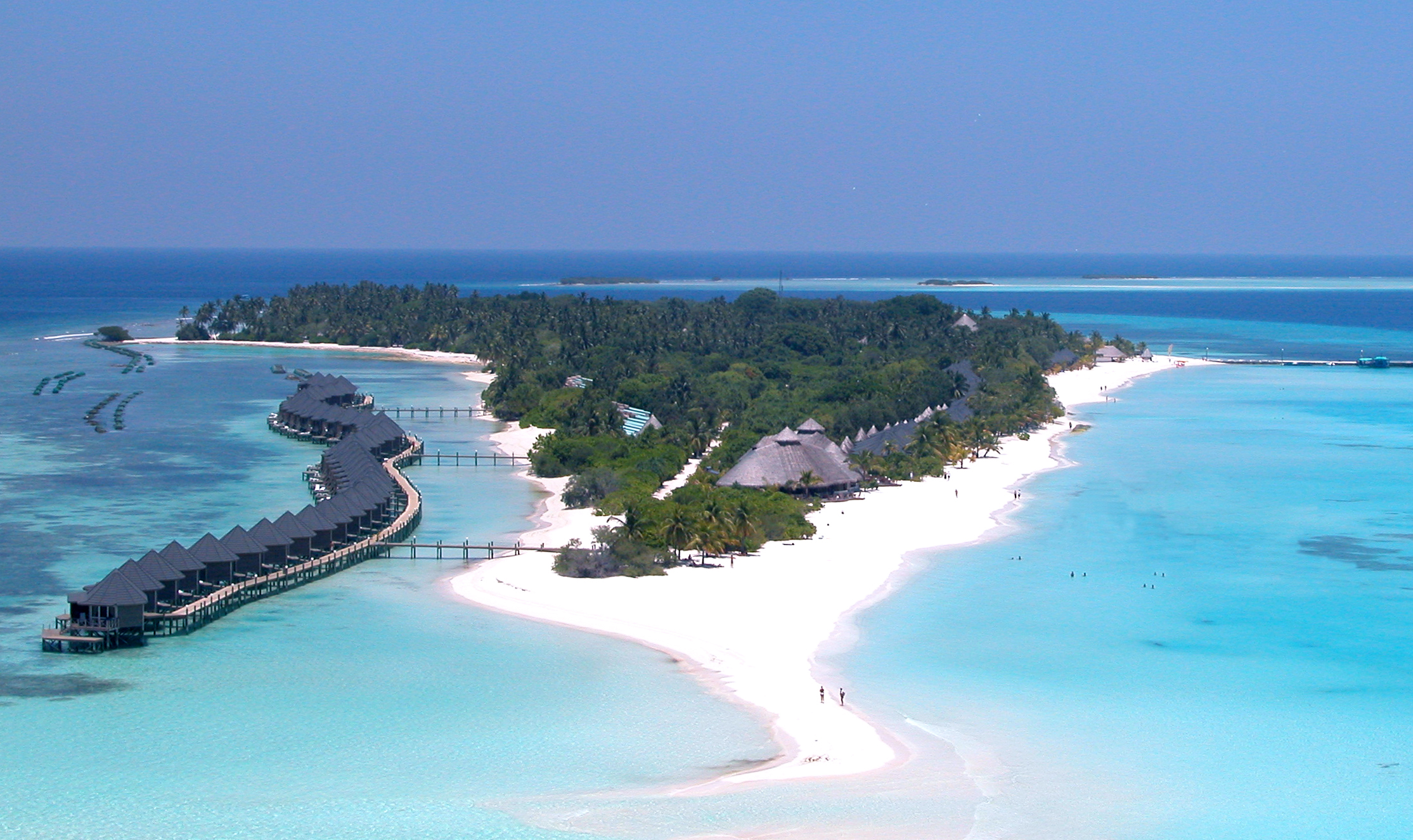 31 Jan

The Maldives – The Ultimate Romantic Island Hideaway

What more thrilling and romantic than the sun, sea and sand of one of the world's most remote and extraordinary natural aquariums. The sparkling jewels of the Maldives are the ultimate destination for rejuvenating the soul and celebrating something very special.  Perfect powder-white sand beaches are lapped by the crystal clear waters of the Indian Ocean.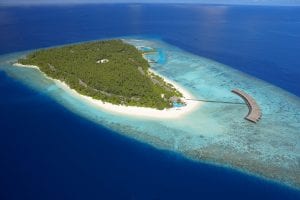 With a lifelong love of the ocean I have been blessed to experience many an exotic island hideaway with beautiful beaches.  However, I was yet to discover the perfect tropical island of my childhood drawings of high white sand beaches with palms atop – until my visit to the Maldives.  Close to Mother Nature with sun, sea & sand to play in, fruit & fish galore to eat & sparkling people to meet.  The cherry on the top is that each isolated island sanctuary is bejewelled by exquisite coral reefs and the most exotic of marine life.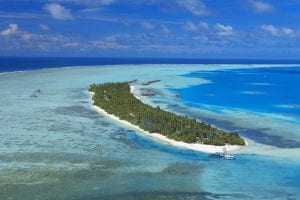 Each island hideaway is luxurious, unique & enchanting in its own style and boasts turquoise wavelets lapping caster sugar white sand beaches, 'House Reef' with every imaginable colour of tropical fish waiting to be marvelled at, tropical skies, the harmonious rustle of palms and the most delicious gourmet Maldivian food.  However, the degrees of luxury & atmosphere are very different on each paradise island!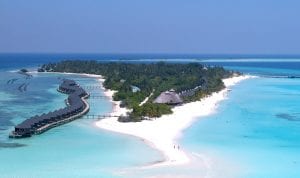 Above: Kuredu Island Resort & Spa
Our first Atoll visit is to Kuredu Island Resort and Spa, a 40 minute float plane transfer North from Male, the 'Island Kingdom' gateway, to the Lhaviyani Atoll famed for its exquisite marine life.  We were welcomed aboard our sea plane by a bare-foot Captain and his crew!  After an exciting skate across the waves the plane nimbly took to the air and offered fabulous views over the Indian Ocean, submerged ring reefs (faroes), islands and lagoons all winking at us like a tie-die patterned piece of fabric in every blue describable billowing in the breeze.  The Maldives have been described as a 'garland of islands' and you can understand why as you see some of them from the sea plane.  In total there are twenty six coral atolls in a double chain that reach down and touch the equator.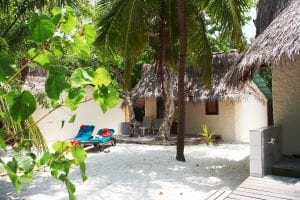 Above: Barefoot lux – Kuredu beach villa
Kuredu came into view perched atop Lhaviyani Atoll encompassed by the two faces of the Indian Ocean with far reaching ocean to the North and the tranquillity of the inner atoll ocean in the South.  Our delightful hosts encouraged us to remove our shoes to feel the fine white sand beneath our feet – welcome to barefoot luxury!
Kuredu boasts stupendously luxurious villas on the beach surrounded by swaying palms, kani trees and exotic tropical vegetation and the very finest pure white sand and crystal clear warm lagoon.   We enjoyed the adventure of a snorkelling excursion by speedboat to a reef known as 'The Wall' a 20 minute journey further north.  Our expert guide kept us safe in the strong current and we enjoyed a thrilling drift snorkel marvelling at the incredible coral and marine life below.  Either lots to do, or absolutely nothing!  Utter heaven.
Above: Aerial view of Baros
Our first experience of Baros was one of luxury as soon as we boarded the 'house' speedboat and its fine taupe coloured livery & matching Boat Butlers! We sped across the ocean for a 20 minute transfer to Baros – a perfect tiny island paradise of high white sand beaches and dense tropical rainforest surrounded by an immaculately planted tropical paradise.  Contemporary, chic and Incredibly luxurious we experienced the uniqueness of staying in a Water Villa.  The thrill & joy of being surrounded by ocean were sensational.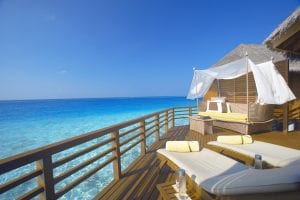 Above: The deck of one of Baros's Water Villa
Baros has a resident Marine Biologist with a commitment to replanting coral.  Children can join in with this activity & track the success of their coral once home.  The house-reef at Baros has the best coral we have seen on this trip.  It is healthy and colourful with the most vibrant fish population.  The resident turtle was quite happy for us to join him on a hunting trip around the corals & a shoal of ten or more Eagle Rays circled for almost half an hour feeding in one area of the reef while we hovered overhead in wonderment.  On several occasions we passed them gliding up and down the coral wall.  Numerous black-tipped reef shark continuously cruised the reef ignoring our presence entirely.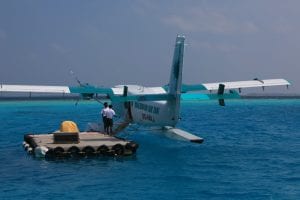 A sea plane transfer South this time to Filitheyo, again with spectacular views over mesmerizingly beautiful atolls.  The plane touched down skimming the ocean as we chased scores of frolicking dolphin, we were seemingly in the middle of the open ocean with barely an island in view, and only the two of us off-loaded onto a tiny bobbing jetty with a small wooden sign announcing 'Filitheyo International Airport'.  The island beyond looked uninhabited – from this distance all that could be seen were high white beaches and tropical canopy – not a building in sight!  The gentle buzz of a Dhoni's engine announced our rescue, heralding the essence of this island – relaxed & laid-back.  No pomp & ceremony or pretentions – simple rustic charms & the pure natural beauty of the Maldives in all its glory.  Setting foot on the island we were ushered off at an amble through the ancient palms & a tropical paradise along winding sandy paths, past a tiny Maldivian lady gently sweeping the sand with a handful of sticks & to our enchanting villa with the lapping ocean waves a few paces away.  Barefoot rustic!  Dress code: bikini & sarong!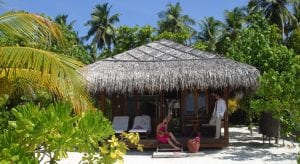 Above: Our beach side villa
Filitheyo attracts many divers due to the superior reef in this part of the archipelago.  Filitheyo's 'House Reef' wraps around the island like an bejewelled cape and is extensive, spectacular & pristine with a plethora of fish of every shape, colour and size.  Snorkelling makes for an exciting adventure as different species present themselves on each outing.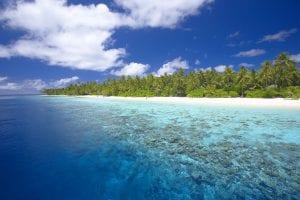 Above: Filitheyo's spectacular house reef
The reef wall drops off the island into the deep blue beyond and clustered to this wall a coral Garden of Eden is home to every describable Damsel, Wrasse, Angel & Butterfly fish.  Blue Surgeonfish dodge the Parrotfish & Clownfish nestle between the tentacles of its swaying soft coral home.  On each of our snorkelling sorties a posse of Curious Pipefish lead the way with Spotted Unicorn almost bumping into the glass of our masks with their long snouts.  Suddenly a shoal of a hundred or more Blue Triggerfish appear gliding so close their tiny red fangs almost touch the glass.  In the deep against a backdrop of navy blue a tapestry of Moorish Idol remain suspended as if on fine threads from the surface. Out of the blue Eagle Rays cruise the wall closely followed by a Grey Reef Shark.  A Giant Black Moray Eel rises up from the folds of his coral den baring his jaws menacingly.  We take a wide sweep to avoid an over-sized Titan Trigger Fish which has been known to deliver a generous bite if feeling territorial & discover a shy Lion Fish hiding in his cave.  We watched a turtle foraging for a morsel he was so determined to retrieve he used his front flippers to dig & his beak to bite at the coral hidey-hole of his prey.  Eventually he surfaced for three big gulps of air & then remained motionless eyeballing us, seemingly as intrigued by us as we him.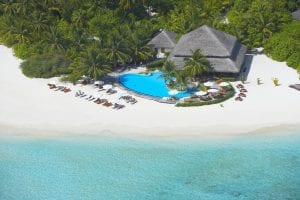 Above: Filitheyo's sunset bar & pool
Chilling under palms outside our villa it is high-tide and the sand spit beyond the reef has disappeared from view.  Thousands of tiny glittering fish shimmer across the surface like a fan of diamonds chased by larger dark fish skimming the surface.  Wavelets of shining, peaked, whipped egg whites chase the caster sugar sand glittering in the sunlight & then spills up sinking our loungers deep into the sand & sending the scuttling hermit crabs into their shells.  The coconut man is doing his rounds bringing fresh coconut milk to sunbathers, his strong rough hands working his machete as he deftly chops top & bottom for guests to drink straight from the husk.
Like all Maldivian food Filitheyo's is top notch the chef combines fresh ingredients from Sri Lanka and locally caught fish to create some delicious local cuisine such as exquisite curry's, exotic salads, delicious sea-food – all freshly prepared & mostly cooked to your exact taste before your eyes.
We are already planning our return to the paradise isles of the Maldives to get up close and personal once again with nature in her purest form.
This is a definite must experience several times in a lifetime destination & as they say 'life's no dress rehearsal'!  I'm left longing to return to the paradise that is the Maldives, up close and personal with nature's natural aquarium in her purest form.