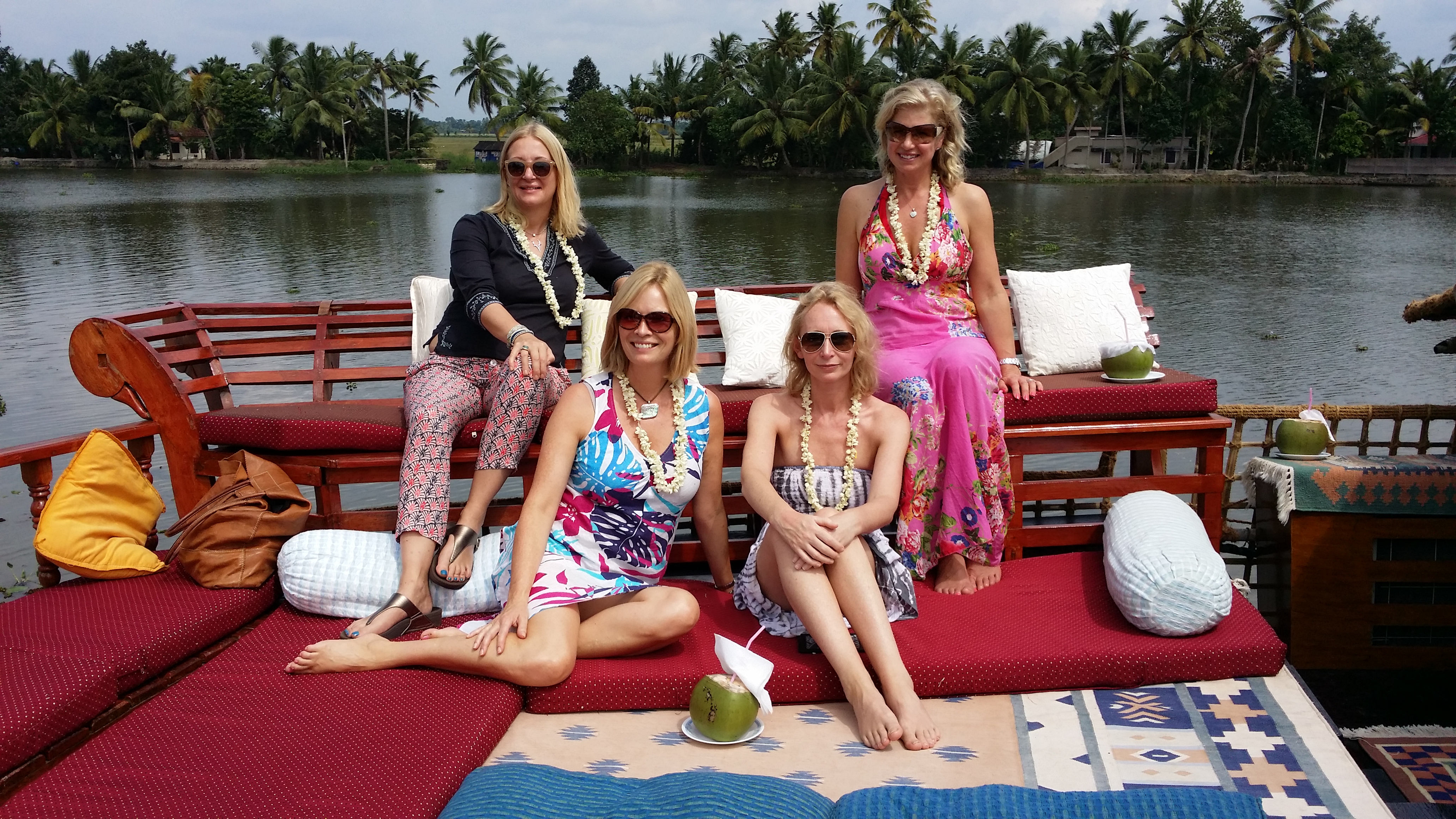 31 Jan

Kerala – A feast for the Senses

Some friends & I set off to Kerala, the ultimate away-from-it-all destination in the Southern Indian state.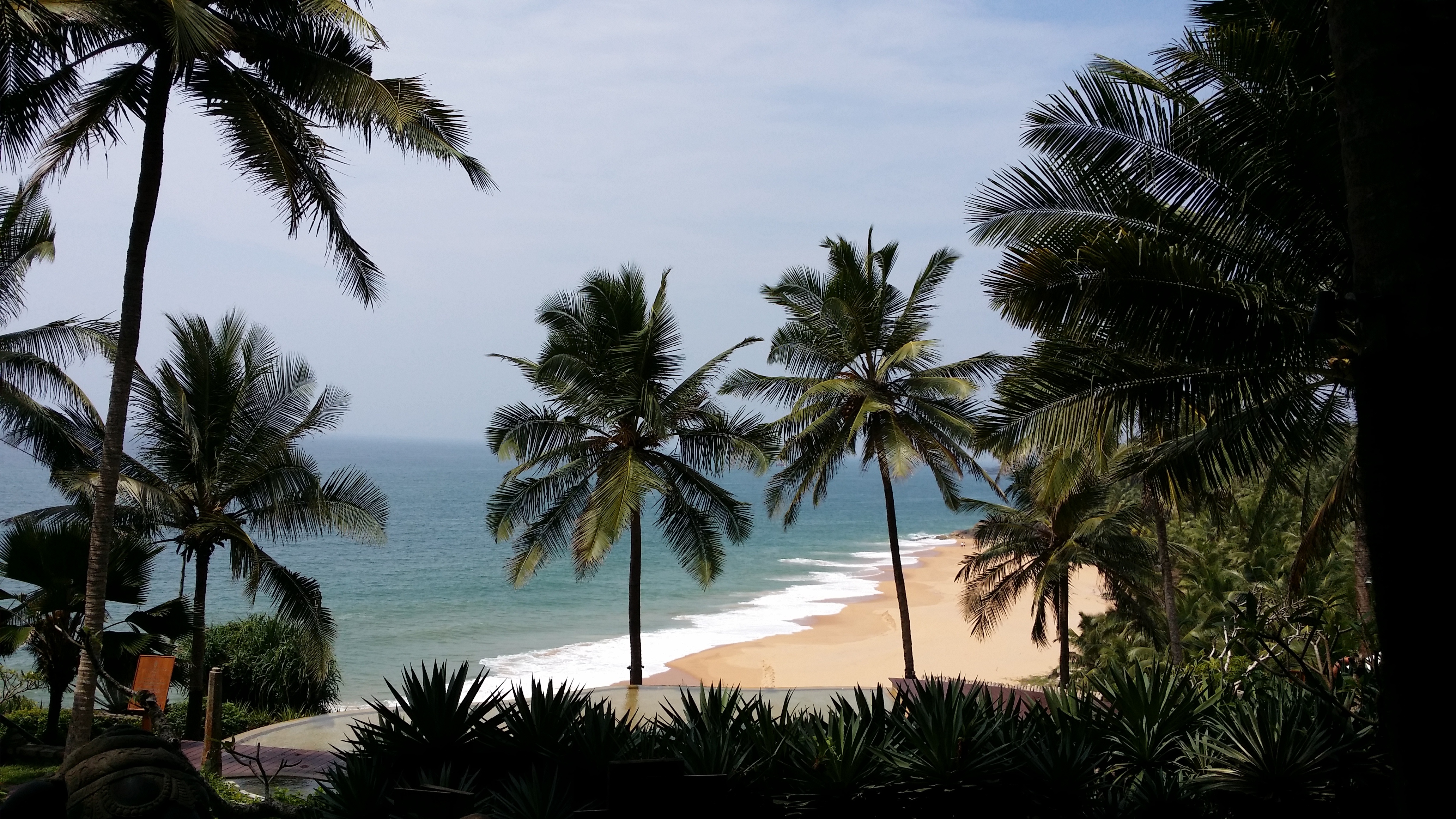 Above: A view of the beach from Surya Samudra, a heritage property nestled in the tropical cliff top gardens overlooking this pristine beach of golden sand.
Drenched by warm surf and padding along a golden sand beach surrounded by swaying palms on the balmy southwest coast, we felt we had arrived in paradise.  The tropical climate of Kovalam was a blissful escape from the damp, winter chill we had left behind.  We relished a couple of days of pure relaxation with deliciously little to do … except eat fresh fish in the beachside restaurant, swim in the rock hewn infinity pool, head for a massage, leaf through a book in the hammock under the palms or practice yoga beside the ocean at sunset surrounded by fireflies sparkling like fairy dust.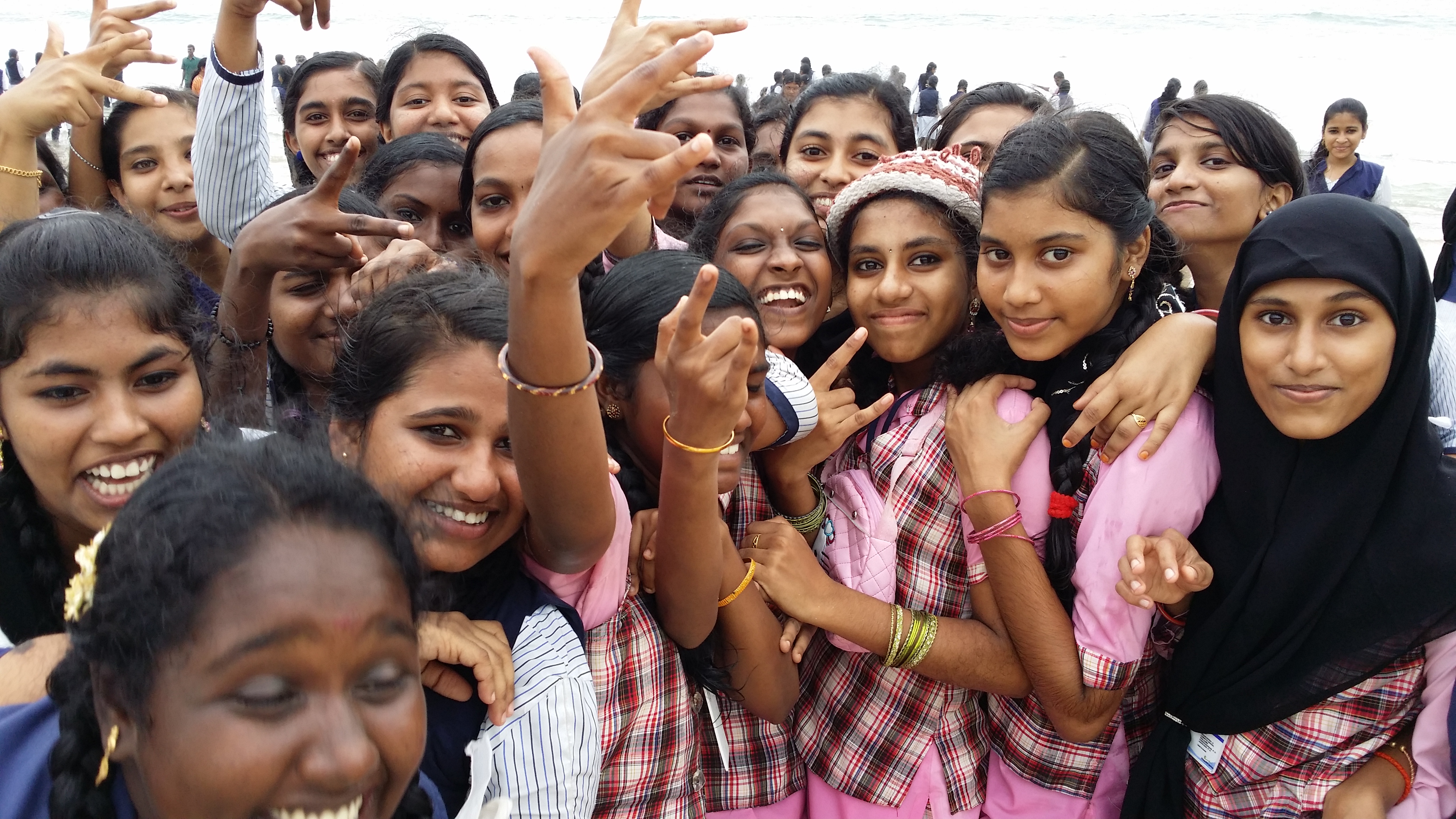 Above: School groups gather on the beach at Kovalam during a day out to the seaside.
Kerala is known as 'God's Own Country' and is not only one of the most beautiful places on earth, but one of the most religious too where Muslims, Hindus and Christians mix freely in a way they do not in other parts of India. Kerala's delicious cuisine was a big highlight of our trip and not simply a gastronomic delight, but part of the people's hearts, minds and souls.  The food is as varied as Kerala's culture too, from tapas-style vegetables on smooth banana leaves to rich beef biryanis and fish molee to spicy king prawn curry.  We attended a cooking demonstration and witnessed sizzling onion, turmeric, ginger, garlic and chilli being tossed with popping mustard seeds, curling curry leaves, coconut vinegar and locally caught fish and then feasted by candlelight beside a waterlily pond.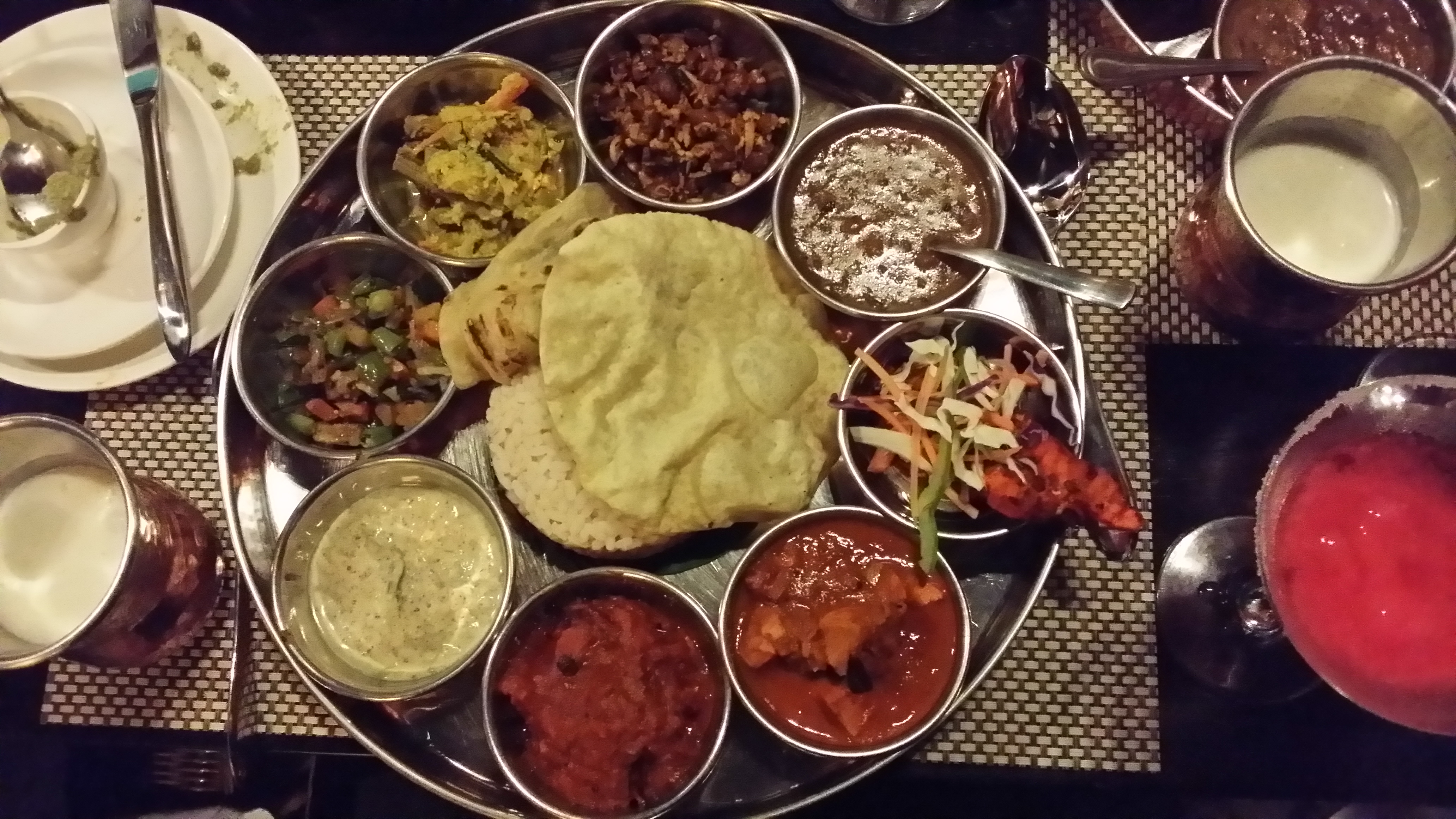 Very much apparent was the Keralan ancient practice of Ayurveda, where balancing the body naturally to eliminate ailments combines with corrective diets to cure all ills.  Following consultations with the resident doctor, we fully embraced the extensive menu of Ayurveda treatments on offer, the most noteworthy of which was the shirodhara. This was a double massage followed by a slow pouring of warm, fragrant oil across the brow or third eye leaving one in a perpetual state of blissful relaxation.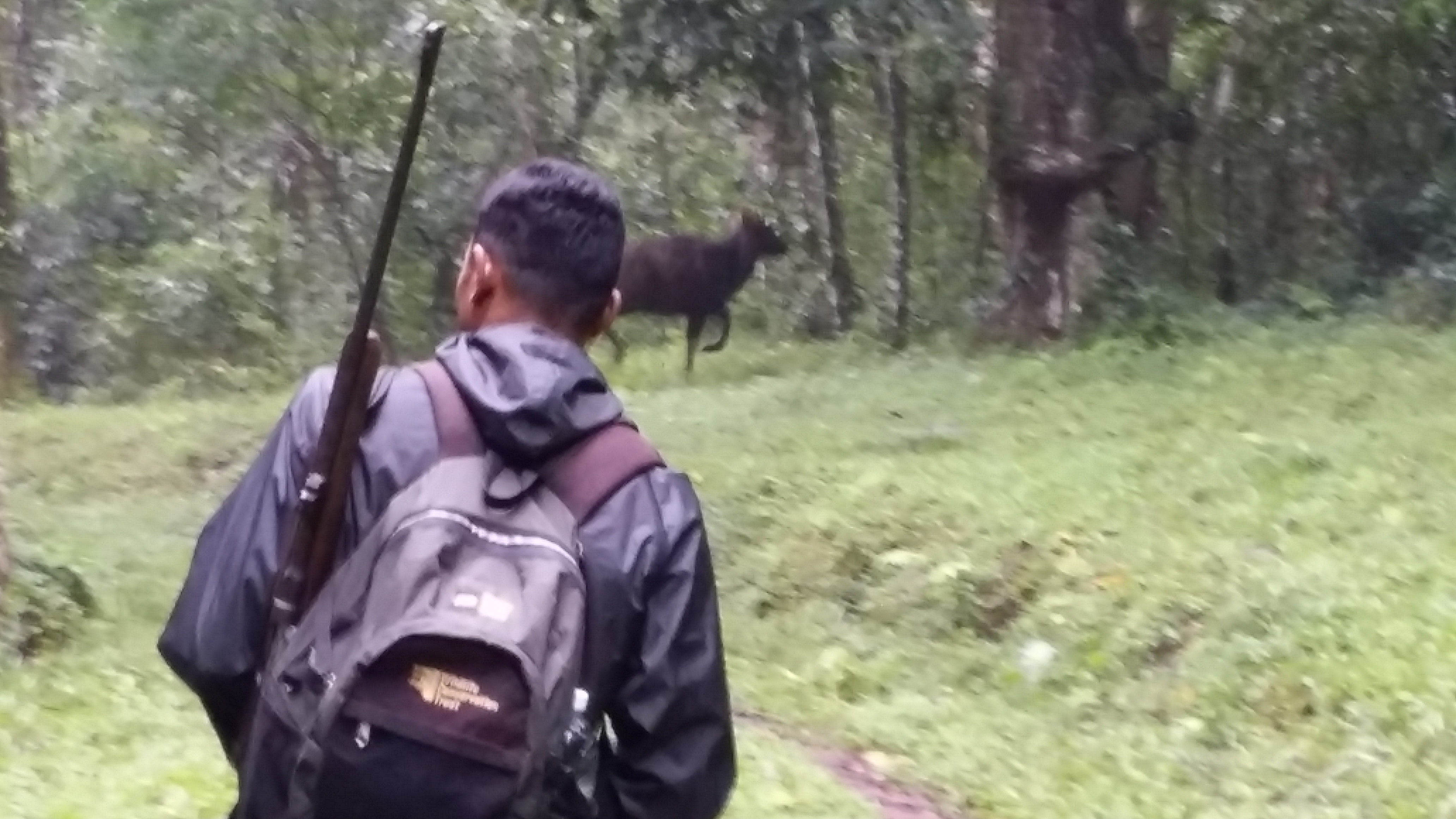 Above: Hiking through the Periyar Tiger Reserve.
A unique highlight of the trip was hiking in the Periyar Tiger Reserve through forests draped with lichens and pepper vines.  A family of bison plunged out of the foliage across our path and we half expected to see a tiger in hot pursuit!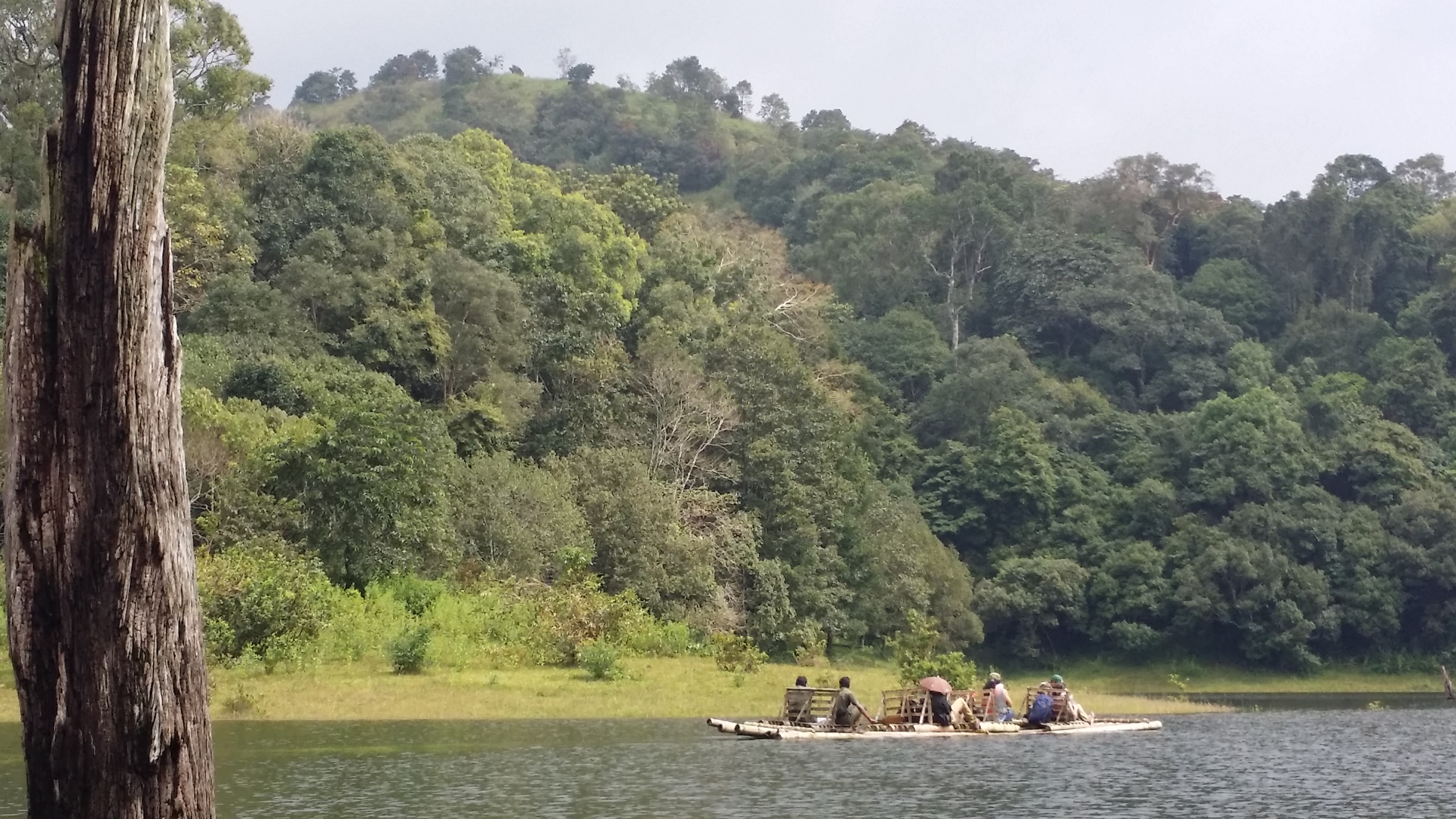 Above: Guides punted us on bamboo rafts across the tranquil waters of the lake surrounded by lush vegetation and wonderful birdlife.  We were captivated by a family of elephants grazing by the water's edge (below).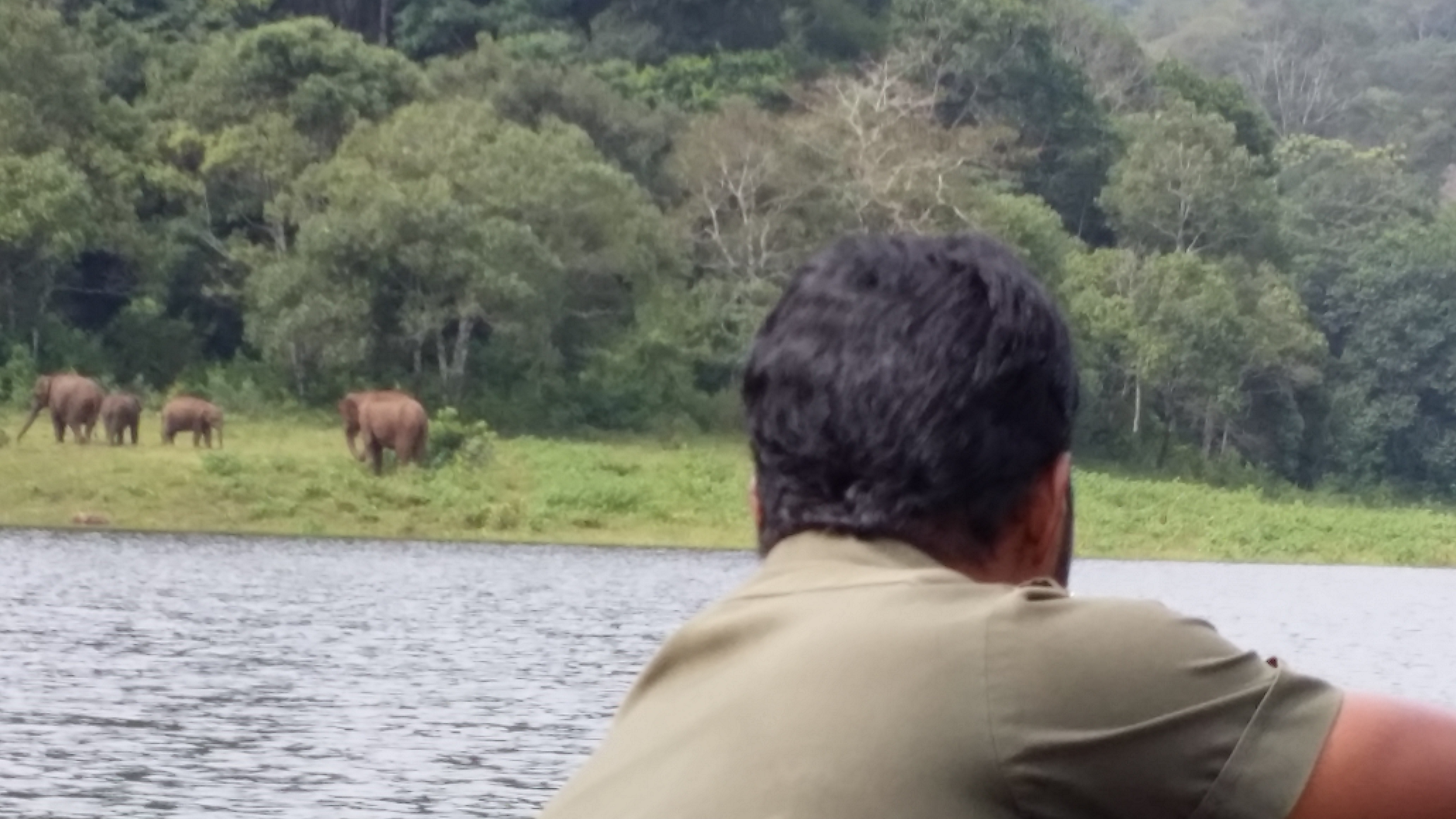 In the tranquillity of the Kerala Backwaters we were welcomed aboard a traditional rice barge by waiting staff who adorned us with jasmine garlands. The barge was bedecked with polished brass plaques and burnished wooden floors with en-suite berths and king-sized beds.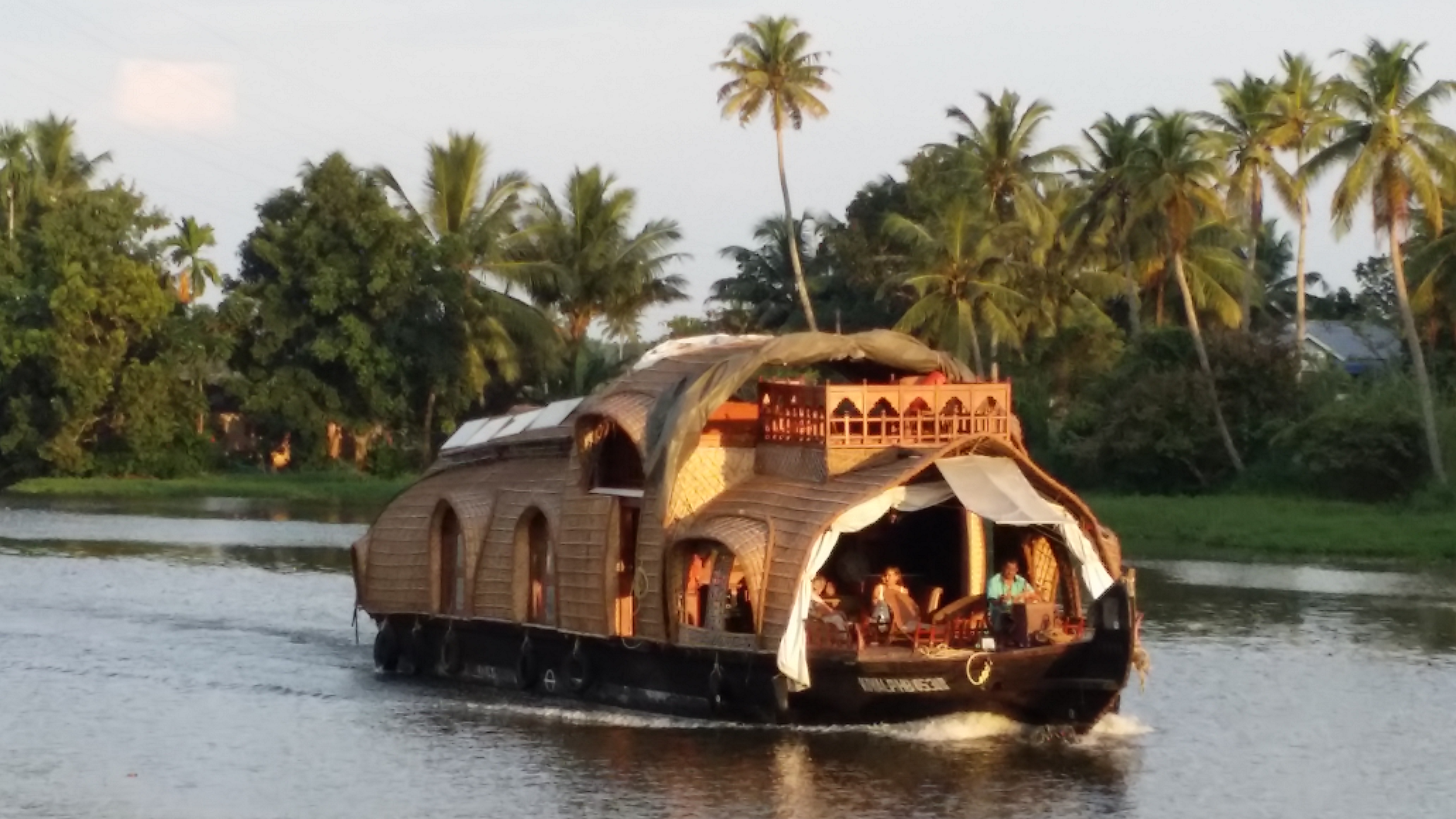 Above: views from our rice barge.
Following a welcome drink of an ice-cold coconut we were soon gliding through the labyrinth of canals and lagoons watching fishermen casting nets from canoes, brightly painted houses nestling among flowering bougainvillea and the colourful saris of women walking on the river bank reflected in the glassy water.  I was enveloped by a sense of peace and harmony.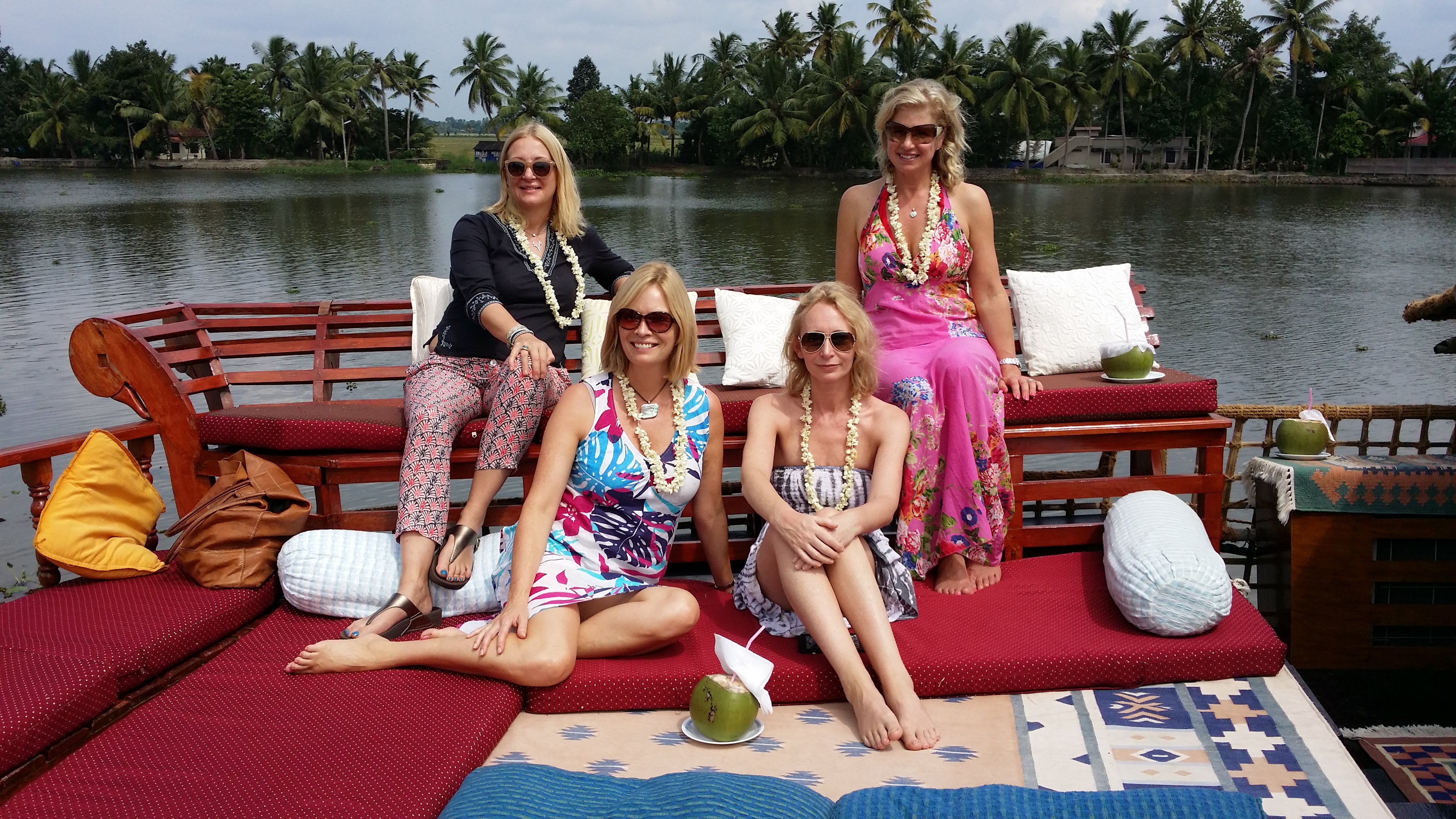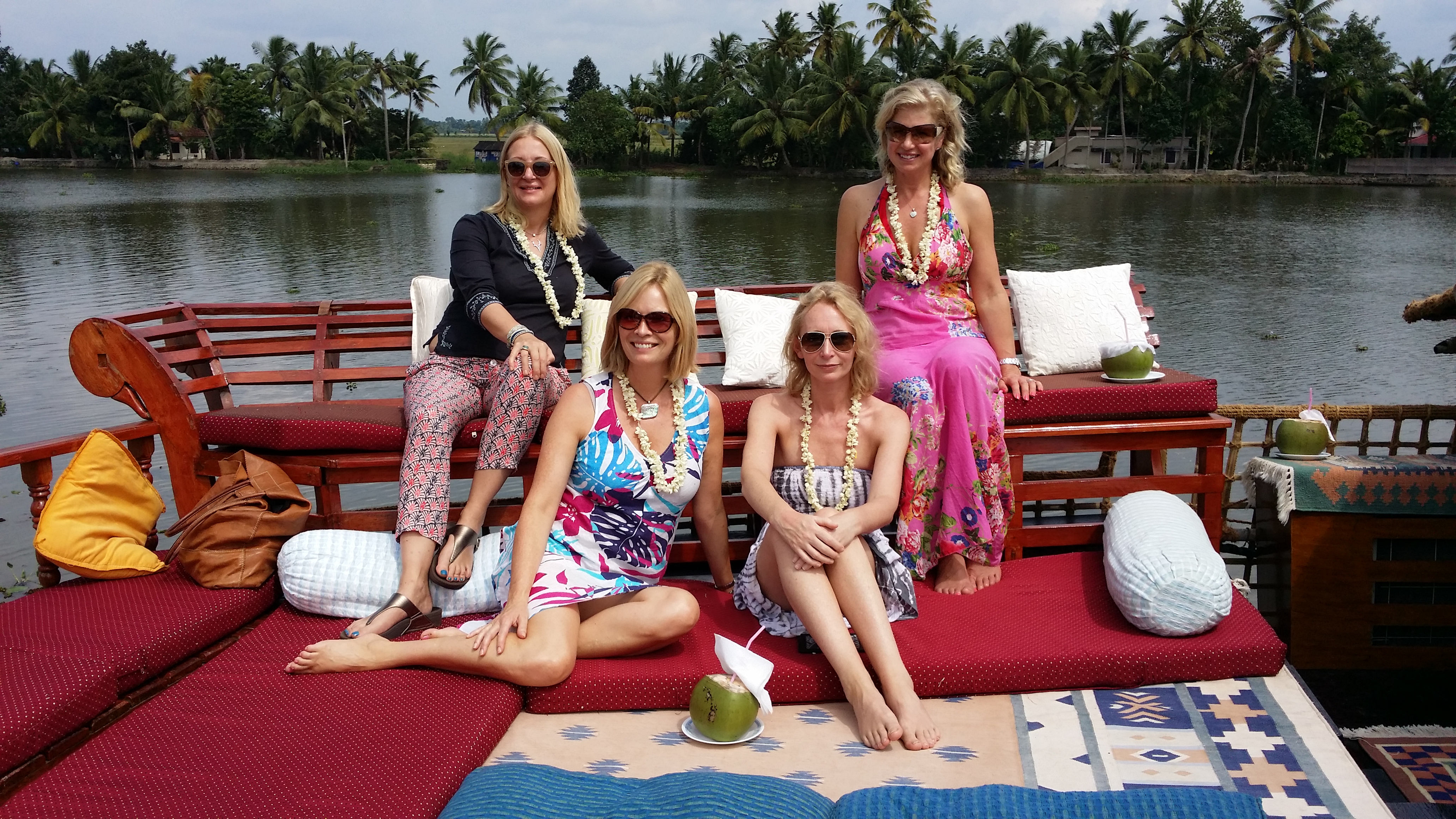 Above:  Vaikaundam Houseboat:  Our group gathered on the lovely cushioned area on the upper deck where we enjoyed watching backwater life glide by.  Vaikaundam Houseboat has an air-conditioned drawing-room on the upper deck for all meals and nine bedrooms on the lower level which can be split into twin beds/doubles all with en-suite bathrooms & are well stocked with toiletries.
We explored by foot a village beside the canal with a row of tabletop shops of foodstuffs and household produce.  Men sat in the shade passing the time of day and women in beautiful saris stood chatting at a street corner clutching shopping baskets.  A tuk-tuk drew up beside us and delivered school children home. The girls wore pristine uniforms and neat plaited and ribboned hair (below).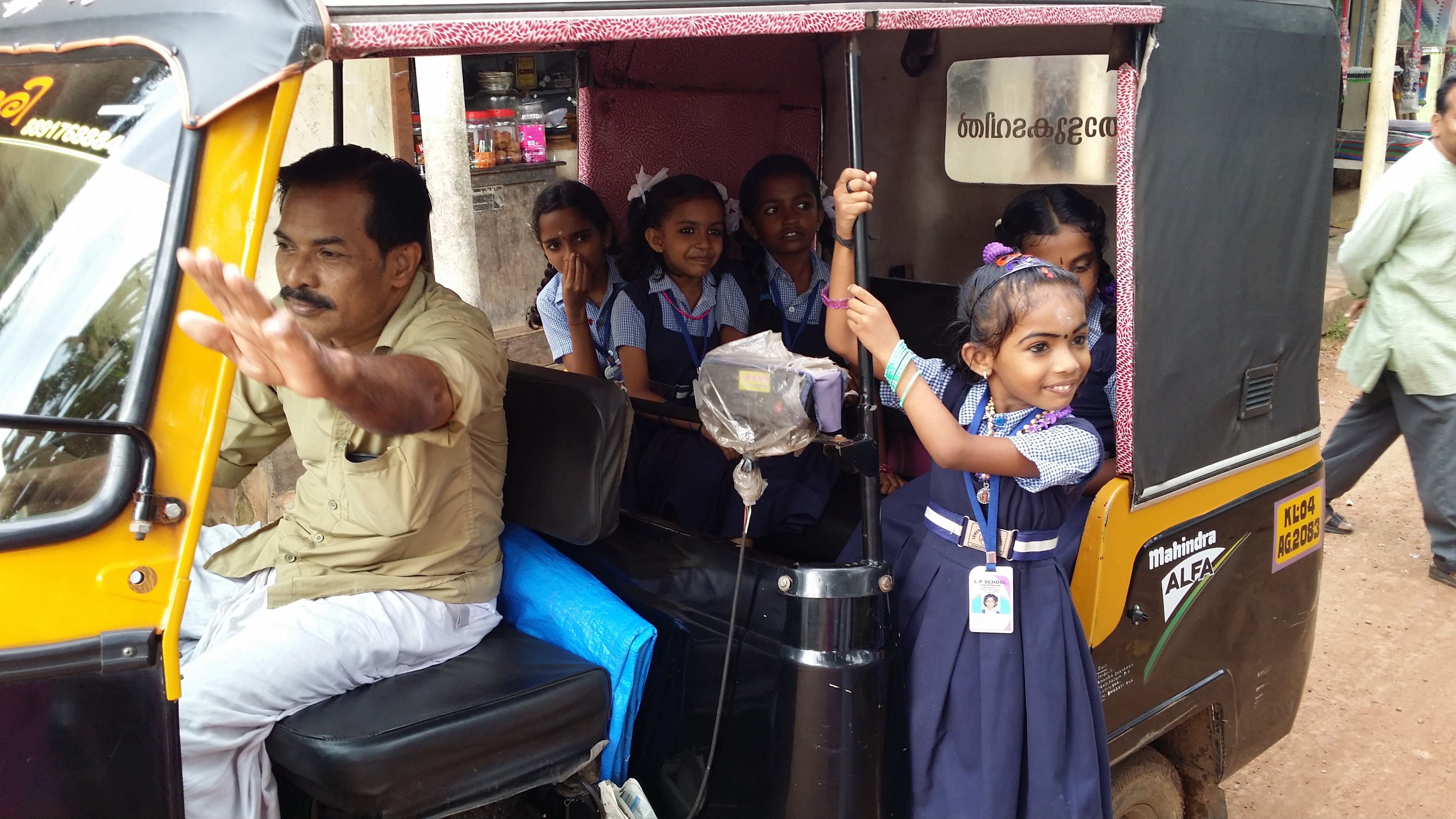 A fascinating and bizarre visit was to a coir factory with a lady twirling spindles of coconut fibres into a rope wound by a mechanised wheel with a row of tethered buffalo looking on while gently chewing from bundles of cut grass (below).
Our fascinating journey to the Cardamom Hills took us through tropical forest partly cleared for settlement and cultivation and gave us a bird's eye view of Keralan life from the window of our mini-bus … an elephant and mahout ambled past towering banana trees, a lunghi-clad man scrabbled up a palm tree, entire families balanced aboard mopeds to weave deftly past meandering cows and street sellers.   In the evening we were greeted with cooler air and far-reaching views across plantations of tea and coffee and we had been seemingly teleported back in time to a colonial era of golf and afternoon tea!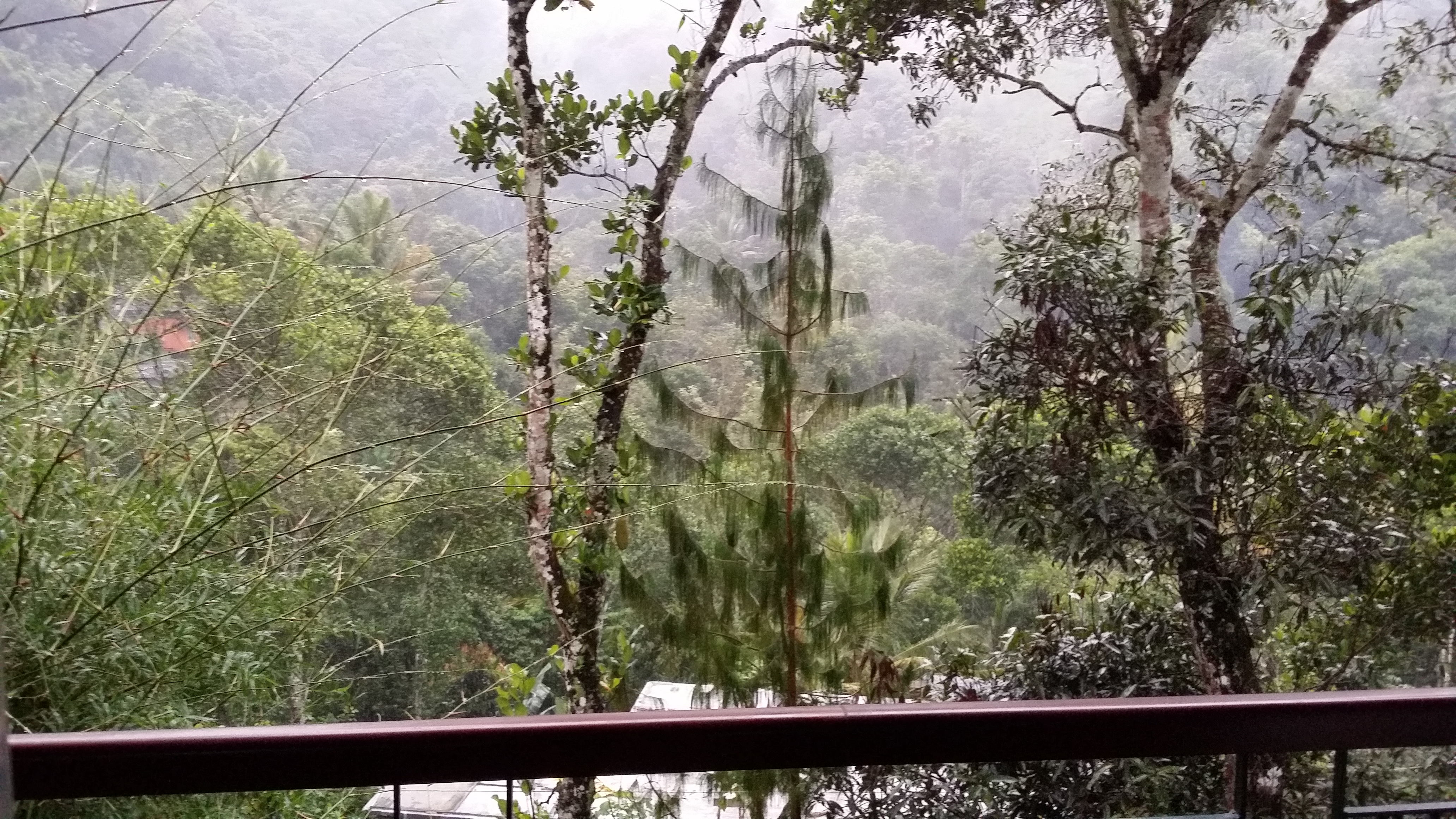 Above:  The Cardomon Club is set within three acres of forested sculptured tropical gardens 1300ft high amidst coffee & cardamom plantations with pickers working above the property.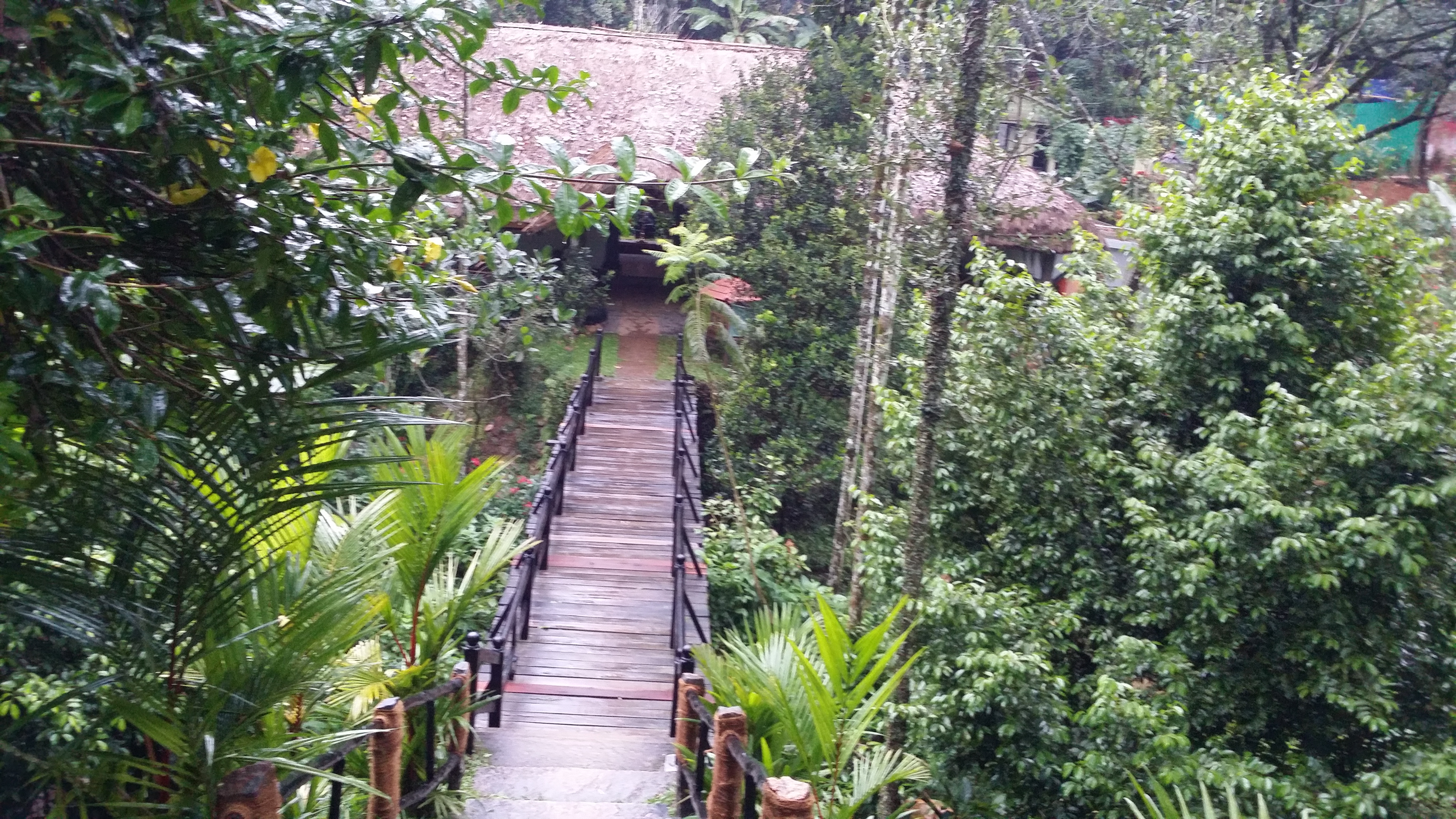 Above:  Shalima Spice Garden – a charming property, quaint and authentic with a wonderful spa where we all experienced a shirodhara treatment!  There is a lovely shop and a games room with drafts, chess and library, set in beautifully sculptured gardens with enchanting paths weaving through the lush gardens.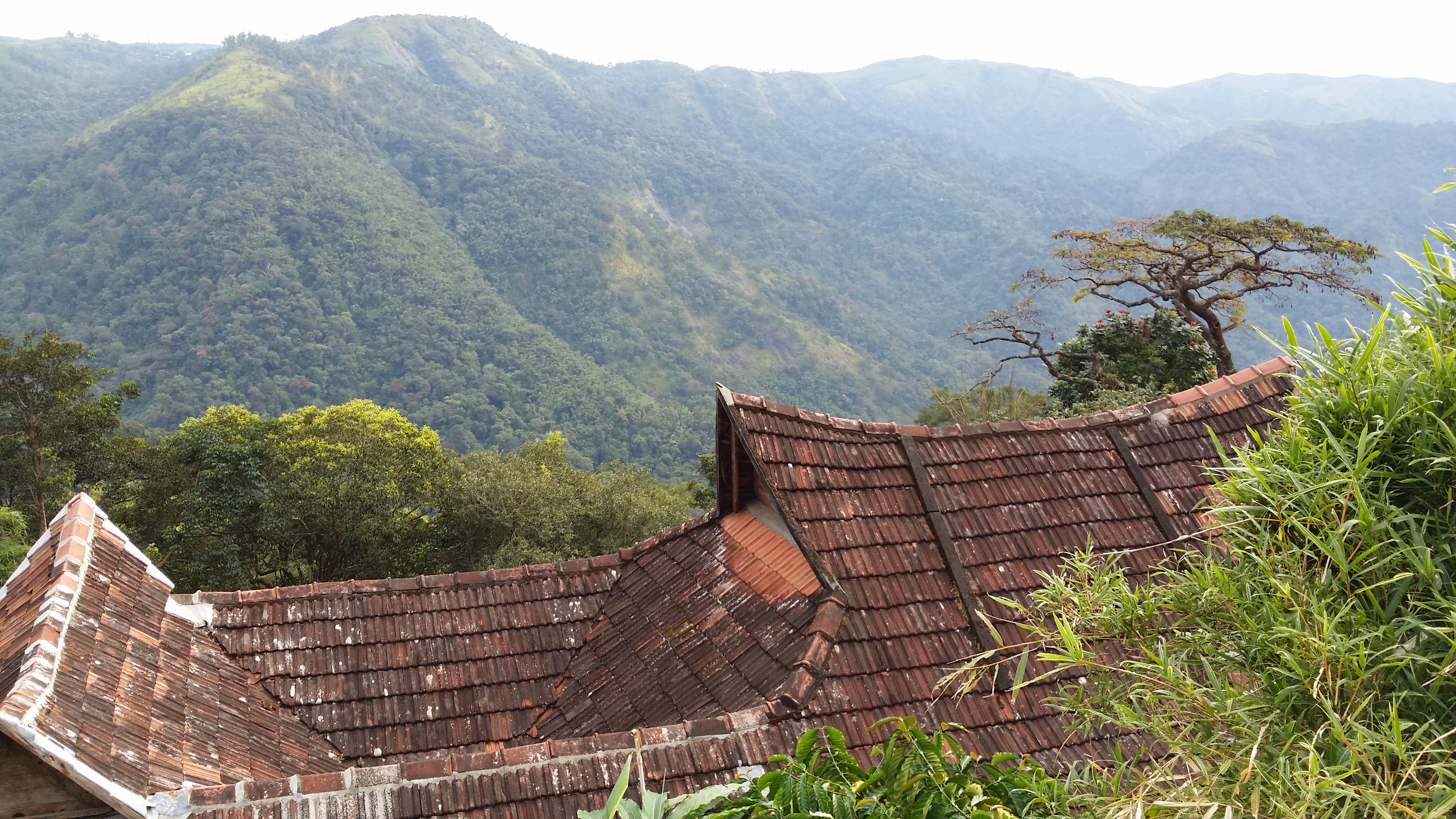 Above: Rooftops of Paradisa Plantation with incredible far-reaching views of 26 acres of organic coffee and spice plantations – this was the best coffee we tasted on the trip from the property's private plantation.  The property has a wonderful colonial feel with chalets build of reclaimed doors and intricately carved panels from old buildings.

Above:  Simon accompanied us on a wonderful nature walk to the top of the mountain with a temple and prayer flags with incredible panoramic views.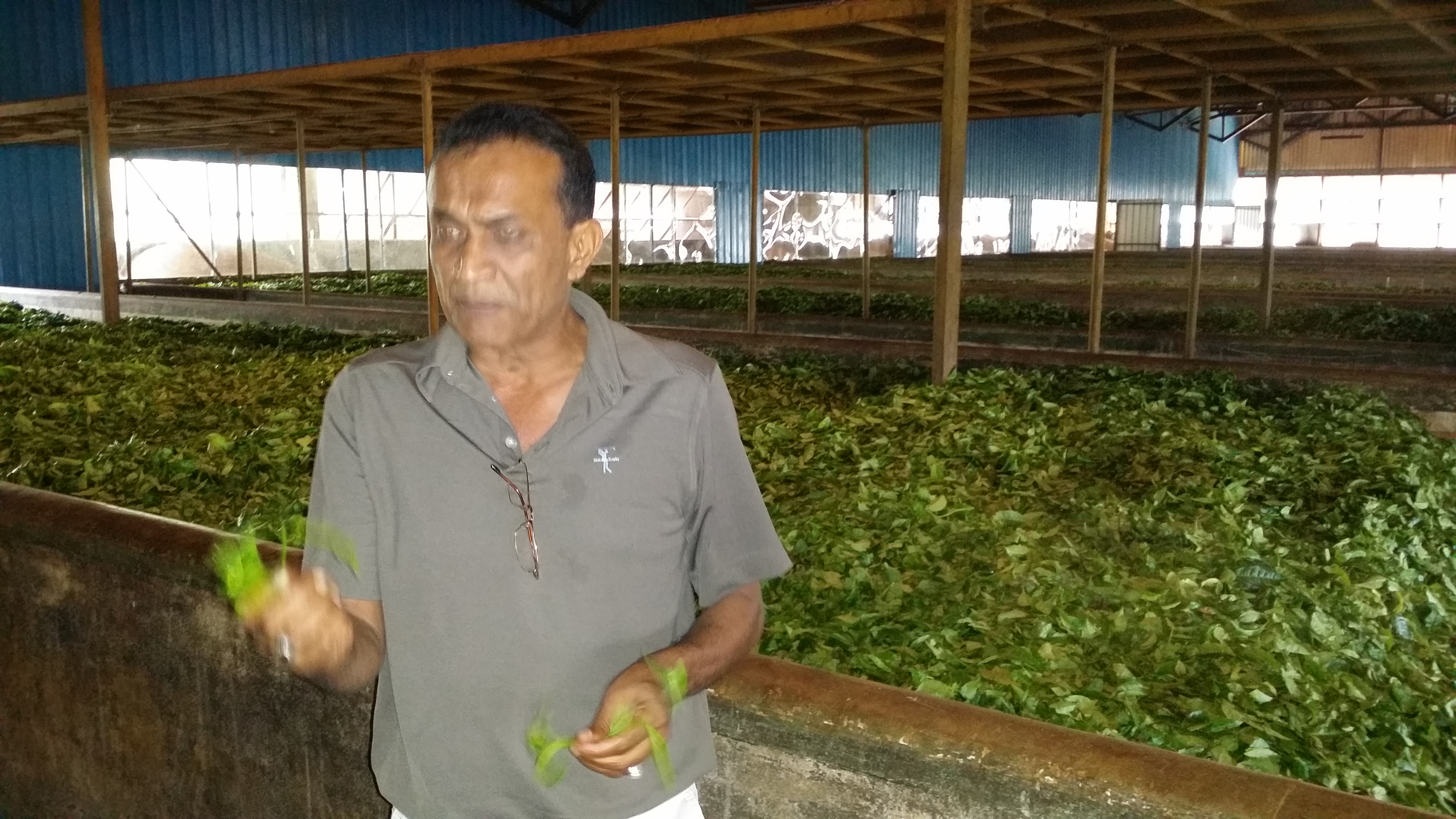 Above: Simon drove us to his family tea plantation with a tour of the tea factory where we heard about different grades of tea and we enjoyed a tea tasting experience – this was a wonderfully unique visit especially our detour to the local golf club and club house with its historical charm – Simon is full of wonderful stories of this family and his ancestral home in Kerala backwaters.  
Above:  A traditional classical dance was organised for us by Simon the owner/manager of the property.  The dancer was a talented 13 year old who was driven 50km in order to perform for us – Simon recited the traditional story behind the dance – it was a wonderful experience.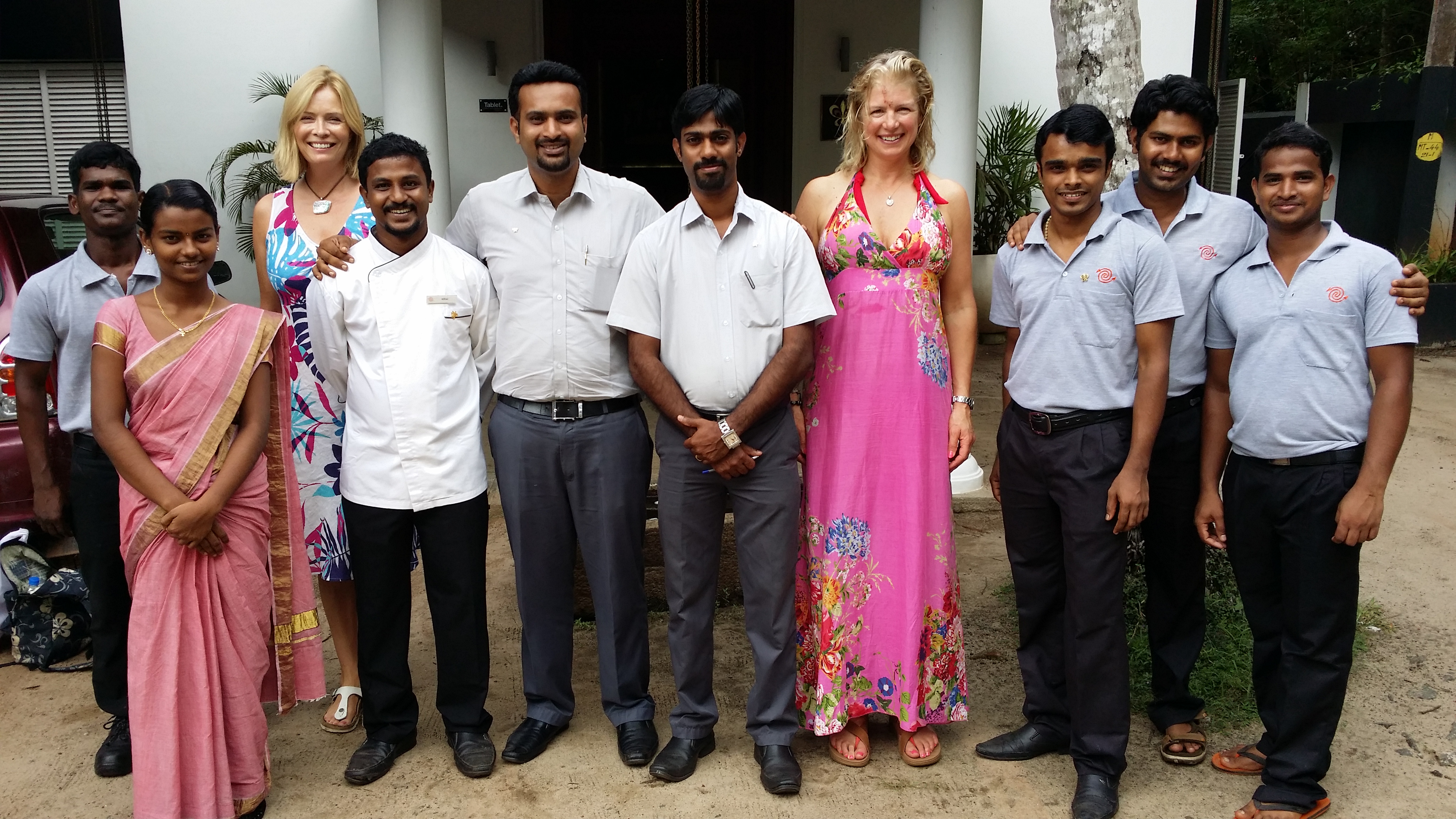 Above:  The team at Lake Vemband, Purity.  The property is stylish and contemporary with a tranquil feel as it is set beside the lake with a wonderful infinity pool with yoga in the mornings on the deck.  There is a fabulous spa with an excellent physician on site offering free health consultations.  The property offers sunset canoe rides on the lake, cooking experiences, a choir factory visit, evening boating cruises and bicycles to explore the local area.
Our final stop was Cochin – the ancient trading post of colonial powers lured by Malabar's 'black gold' pepper and exotic spices of cinnamon, cardamom and ginger.
Above: The Brunton Boatyard Hotel with its stunning swimming pool and waterfront location is a heritage property of exquisite charm  with period features such as original electricity switches and brass plaques.  The hotel arranges fascinating boat trips around the harbour from hotel jetty.
Cochin is a historical gem fascinating to explore on foot with its beautiful colonial architecture, restaurants, cafes and craft shops as well as its bustling port and iconic cantilevered Chinese fishing nets.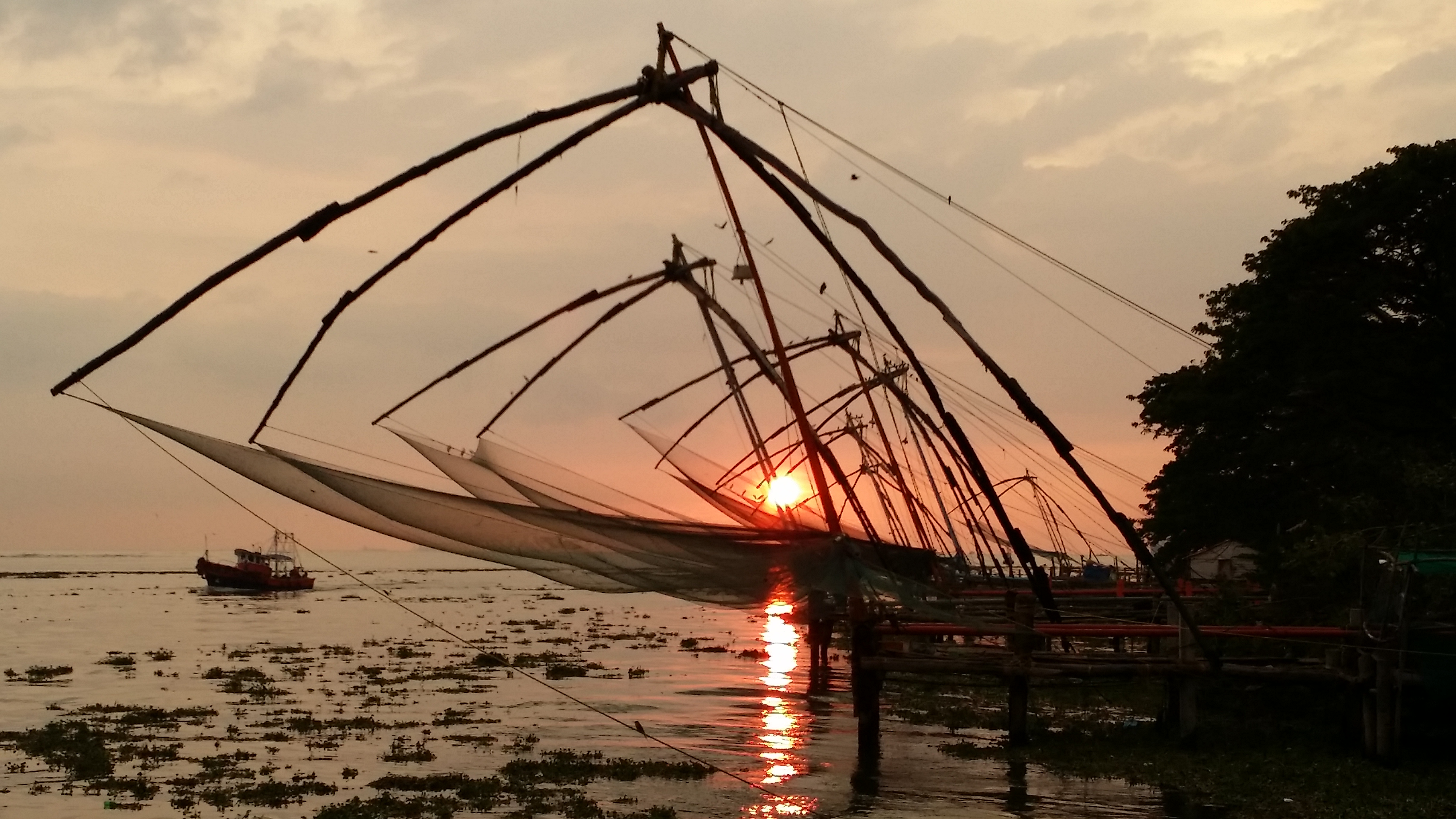 Above: Cochin and the iconic cantilevered Chinese fishing nets.
Kerala is a diverse and exquisite palette of experiences and I can't wait to return!
If the prospect of six months of dreary, cold weather fills you with dread, now is the time to start planning next winter's escape.  A holiday to Kerala can be tailor-made by us, perhaps combining North and South India – please get in contact to discuss your perfect holiday!